2021 Aston Martin DB11 Features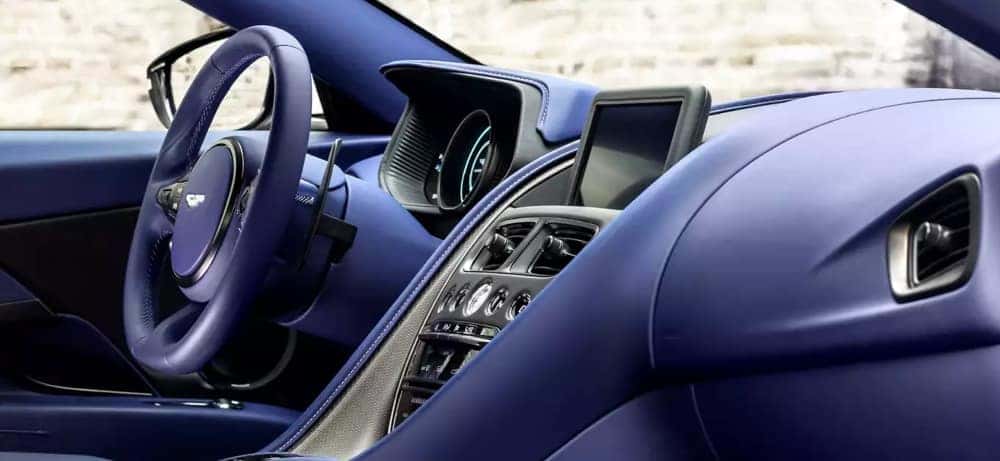 San Antonio and Sugarland drivers naturally come to the Aston Martin DB11 expecting a sophisticated blend of power and refinement, and it certainly exceeds those expectations. The 2021 DB11 interior features are no less impressive. Just a few highlights include:
Bang & Olufsen Audio System
Auto Park Assist
Top of the Line Infotainment
Wi-Fi Hub
Simply read on to discover what sets those features apart.
DB11 Interior: Bang & Olufsen Audio System
The available 1000-watt Bang & Olufsen BeoSound audio system with ICEpower technology complements the Aston Martin DB11's exhilarating performance with equally state of the art sound.
It boasts:
13 Fully Active Loudspeakers
Two Front Tweeters with Moving Acoustic Lens Technology
13-Channel BeoCore Amplifier
400 hours went into tuning this system specifically for the DB11 interior, and it wasn't accepted before an expert listening panel analysed audio performance and gave a final sign off.
DB11 Interior: Auto Park Assist
This cutting-edge driver assistance feature represents the next step forward in autonomous driving. At slow speeds, it will sense appropriate gaps for parallel parking in The Woodlands before steering you safely into that space – all you need to do is take care of acceleration.
For added peace of mind the optional 360-degree birds-eye view camera provides an uninhibited view of the vehicle and its surrounding area from above.
DB11 Interior: Top of the Line Infotainment
You'll use an 8.0" LCD screen to keep tabs on everything that happens in the DB11 interior, and a wide range of infotainment features will provide leading entertainment through every drive.
Features include:
iPhone® Integration and USB playback
Satellite Radio System
DAB Radio
AM/FM Radio
DB11 Interior: Wi-Fi Hub
Staying connected is more important than ever for modern drivers, so Aston Martin has ensured you'll never lose touch from within the DB11 interior.
All models are available with a Wi-Fi Hub that allows you to sync with multiple devices at once. Each one will enjoy a strong and stable web connection that won't run down your smartphone's mobile data plan.
The Aston Martin DB11 Interior Puts Exquisite Features at Your Fingertips
Whether you need toschedule servicing or find out more about current Aston Martin models, we can help at Aston Martin Houston. With that in mind, feel free to contact one of our team members to start a conversation today.
More from Aston Martin Houston
When you purchase an Aston Martin for your Sugarland and The Woodlands drives, you're buying more than a car. You're buying an extension of yourself — a representation of who you are and what you're capable of. So naturally, you'll want to express that in hues that make the most sense for you. But every person…

The 2023 Aston Martin DBX707 price is not cheap — and why should it be? When you purchase or lease an Aston Martin in The Woodlands, Katy, San Antonio or Sugarland, you're not looking for value. You're looking for performance, sophistication, class, and luxury. You'll get all the above and so much more with the Aston…

You know and love the Aston Martin DBX luxury performance-oriented SUV. The Aston Martin DBX707 takes everything about it you love and elevates it to a completely new level. One feature that San Antonio drivers like you are bound to love about the DBX707 on Houston area highways is its impressive 0-60 mph run and boundless…