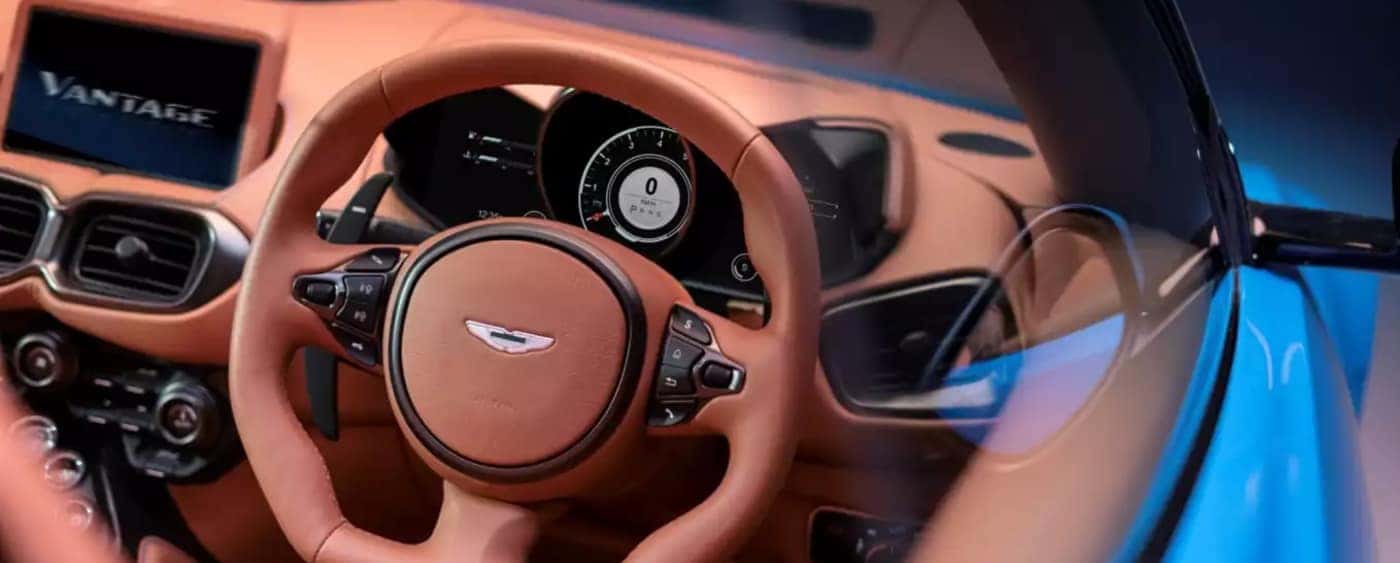 The James Bond franchise is known for chronicling the many incarnations of Britain's most popular spy, but it's also a great showcase of Aston Martin vehicles over the years. That's because the quintessential James Bond car is an Aston Martin — from the 1963 DB5 to the James Bond "Spectre" car in 2015. Join Aston Martin Houston for a tour through the shared history of James Bond and Aston Martin!
Spectre: Aston Martin DB10
The James Bond "Spectre" car is an Aston Martin DB10, a bespoke grand tourer designed by the automaker specifically for the 24th Bond film. Only ten DB10 models were built by hand by Aston Martin design and engineering teams. You may not be able to buy a DB10 in San Antonio, but rest assured that this 007 car's legacy lives on in models like the V8 Vantage.
The Living Daylights: Aston Martin V8 Vantage Volante
This James Bond car is driven by none other than fan-favorite Bond, Timothy Dalton. However, this is no ordinary Vantage. The Bond Vantage is weaponized with features like tire spikes, lasers, and much more. Still, you can pay homage every time you get behind the wheel in Sugarland of your friendly, weapon-free V8 Vantage.
Die Another Day: Aston Martin V12 Vanquish
Thanks to its proprietary "cloaking" feature, the V12 Vanquish is the only Bond car that vanishes. Fortunately, civilian V12 Vanquish models come without a cloak, so that this Bond beauty may be shown off properly around The Woodlands. Find yours in our used model inventory!
No Time to Die: Aston Martin DBS Superleggara
Forthcoming from Eon Productions, the 25th James Bond film features Daniel Craig as Bond and the Aston Martin DBS Superleggera as the Bond car. The big screen is a perfect opportunity to get a look at the latest Aston Martin design details and tech innovations up close.
The Ultimate 007 Car: Aston Martin DB5
If you know one James Bond car, this is it. Originally featured in the all-time Bond classic, Goldfinger, the DB5 is turned up more recently in the Daniel Craig Bond films. We also know from the previews that it stars alongside the DBS Superleggera in No Time to Die. The resulting conversion of the automaker's exhilarating future and its rich legacy should make this film pretty special for Bond and Aston Martin fans alike. Plus, this is the only model to get a James Bond LEGO car version.
Discover the Aston Martin 007 Cars with Aston Martin Houston
Want to know more about the history of James Bond and Aston Martin? Our team is more than happy to provide details about the full lineup of 007 cars. Connect with us for performance specs and design features of any Aston Martin model, from the James Bond "Spectre" car to new DB11 models available right here on our lot in Houston.
More from Aston Martin Houston
San Antonio and Sugarland drivers naturally come to the Aston Martin DB11 expecting a sophisticated blend of power and refinement, and it certainly exceeds those expectations. The 2021 DB11 interior features are no less impressive. Just a few highlights include: View New DB11 InventoryContact Us Bang & Olufsen Audio System Auto Park Assist Top of the Line…

Aston Martin has defined automotive luxury for generations, and they're bringing that sterling reputation to the luxury family vehicle segment with the DBX. TheAston Martin DBX is the first ever SUV they've produced, and it combines up to 542 hp with premium comfort features to deliver a vehicle that engages on every drive while still…